People have graced this site since March 12, 1998.

Here is the winner of the

Saffrin's Moon
Terrific site for information about fairies and the wee folk. A wonderful place to visit with some really good graphics.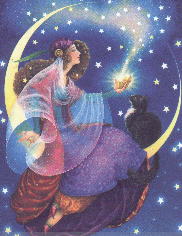 Universal Witch
She does not follow any particular tradition, also known as Eclectic. She learns and studies from many magickal systems and applies those to her practice which work best. You might find her in her sacred space calling upon the Universe for help in her magickal workings.
If you would like to adopt your own witch, just click on the image and she will take you there.

Check out the new chat room



athena@snet.net
If any graphics on this or any other pages are copyrighted or used without permission, please let me know so that I may give the person credit or take the graphic off of the site.